Masterbuilt is not the oldest manufacturer of smoker grills, but the company dates back to 1973. So, you can say that they are one of those longer-standing brands in the smoking industry. The company started as Dawson McLemore's backyard project and it eventually blossomed into a thriving business.
The greatest thing about Masterbuilt is that their products come in a lot of styles and are made to fit everyone's budget. You can go for appliances that use wood chips and pellets or choose electric smokers that don't require any type of additional fuel. And, when it comes to the price, most of the Masterbuilt products won't break the bank. For example, when it comes to their electric smokers, the base units average a cost of between $100 and $400.
The reason why Masterbuilt grills are relatively affordable is that they are made overseas. If you're fond of buying American-made products, then you should also consider this point. When it comes to quality, these grills should last you a long time. They are a perfect choice for average-sized families who love BBQs and smoked food.
If you're considering buying a smoker grill, then you should definitely take a look at the most popular Masterbuilt grills available on the market. If you already own one of these smokers and are looking for ways to get more for your money, check out our article on Masterbuilt Smoker replacement parts & accessories.
Top Masterbuilt Smokers
Masterbuilt MPS 230S Propane Smoker
What puts this smoker at the top of our list is the fact that this is one of the more affordable units available on the market which is large enough to smoke four pork butts, four racks of ribs, two turkeys, or eight chickens. This propane smoker features four chrome-coated grates that can be easily adjusted or even completely removed so you can fit in larger meals.
The smoker is also equipped with push-button ignition, a built-in temperature gauge that provides consistent heat and ensures a steady supply of smoke to prevent overcooking or undercooking food, and a stainless steel burner with high heat output. On the rear of this unit, you can find an adjustable sliding vent that regulates the amount of smoke and moisture and ensures optimal cooking conditions.
One remarkable feature of this propane smoker is the patented porcelain-coated flame disk bowl that is made to protect the burner from grease while allowing the flame to reach the wood chips. In addition, there is a water pan included so that you can customize your cooking experience even more by adding moisture and flavor. Keep in mind that, according to the manufacturer's instructions, it is advised not to use pellets or convert this smoker to natural gas. Instead, you should get a gas tank separately.
Just like every product ever made, this one also has a weakness and it is its temperature sensor. It sticks out about seven inches and slightly limits the cooking space on the third rack.
Features
Excellent Build Quality
Despite its affordable price tag, Masterbuilt MPS 230S propane smoker is made to last you a long time since it is made of steel. The grill also features cool touch wire handles and a porcelain-coated flame disk bowl that ensures the flame reaches wood chips while protecting the burner from grease. Speaking of the burner, it is very powerful (15,400 BTU) and made of stainless steel.
Easy to Use
From the very beginning, this smoker is very easy to use. It comes with concise instructions and all parts are packaged neatly and labeled accordingly. This makes the assembly of the smoker a relatively simple process. Once you assemble it, starting the smoker is very convenient thanks to the push-button ignition. Last but not least, adding smoke to the grill is very easy thanks to the easily-controlled gas controls.
Other Features
This smoker grill includes four chrome-coated smoking racks that can fit enough food for gatherings with your family and friends. The unit also features dual doors lock that ensures the heat is sealed and cooking is consistent all the time.
Monitoring the temperature is very easy thanks to the built-in temperature sensor gauge which is located inside the smoker. The smoker also features a water pan and porcelain-coated wood chip tray that make clean up very easy. In addition, an air damper is also included so that you can control the amount of smoke that is infused into your food.
PROs:
A stainless steel burner with high heat output (15,400 BTUs).
Four adjustable chrome-plated cooking grates are included.
The smoker features push-button ignition.
Additional water pan allows for even more customized cooking experience.
There is a patented flame disk bowl.
CONs:
Poor placement of the temperature sensor.
Masterbuilt 20077515 30-Inch Electric Smoker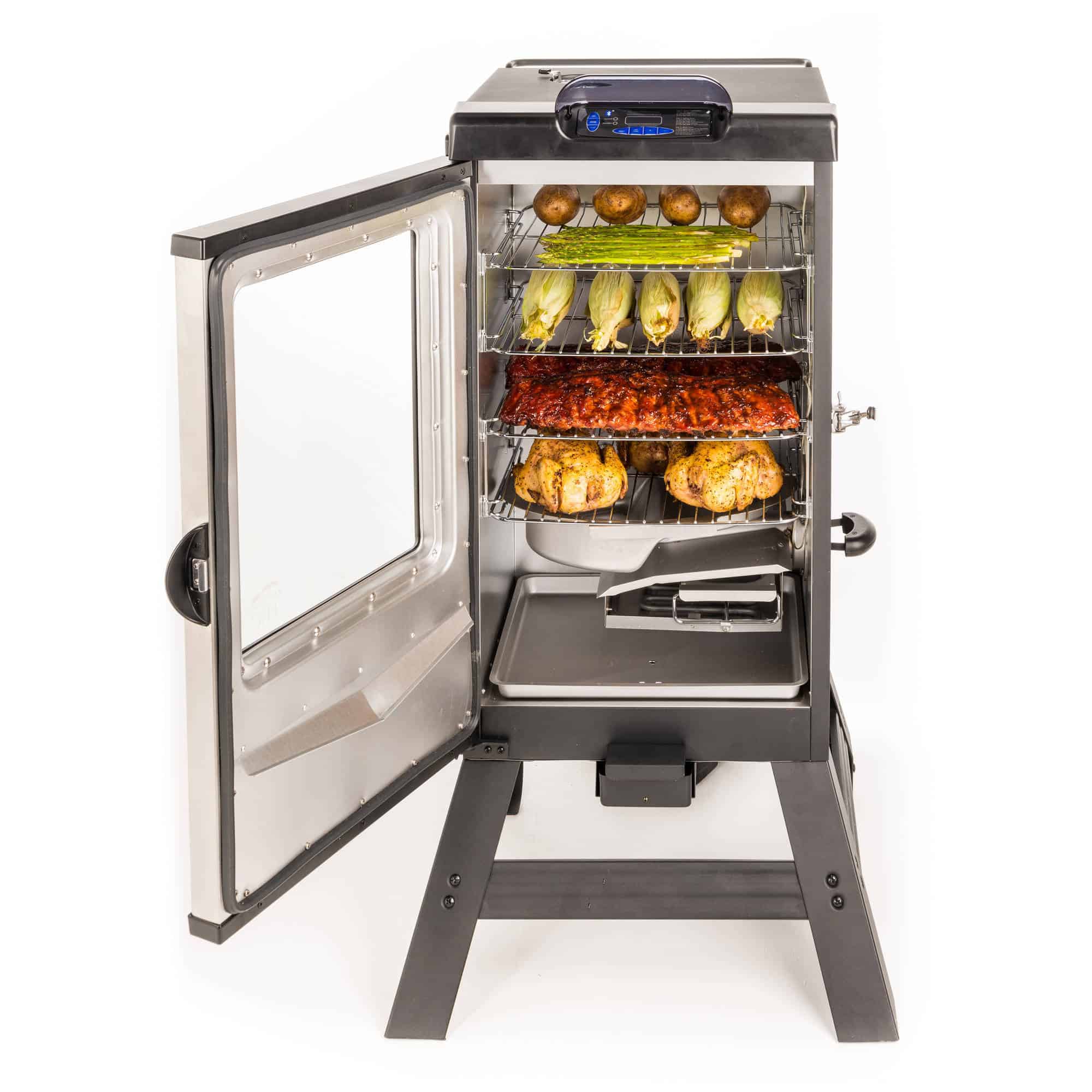 Masterbuilt seems to have designed this 30-inch electric smoker while keeping in mind all the problems other companies experienced in the past. The manufacturer made sure to take care of almost all concerns and cover all of their bases. This is a smokehouse style cabinet unit that doesn't take up much room. You will never have to worry about corrosion or rusting thanks to the chrome-coated smoking racks. You will get all of this and even more without having to break the bank.
Since we mentioned the price, this Masterbuilt smoker grill comes at an affordable price but it features advanced technology that can be found in high-end products. For example, the adjustable air damper allows you to control the level of smoke in your food. If you want a milder flavor, then simply curtail the smoke level. But, if you're going for strong flavor then leave the damper closed.
Another benefit of this smoker is its large cooking area. You will get 730 square inches of cooking space so that you can prepare enough food for a large crowd. Last, but not least, is the ease of use. This product is an excellent choice both for amateurs and professionals. All you have to do is set the desired temperature and let the smoker do all the work for you. And, you can easily monitor the food thanks to the viewing window, without letting any of the heat or smoke out.
Whether you're planning to do serious smoking or just cook for your friends and family, this smoker grill is an excellent choice for you. It is user-friendly, so you won't have to check on it every five minutes or open the smoker to add the wood chips thanks to its convenient design. Just sit back, relax, and let the grill do all the work for you.
Features
Quality Construction and Convenient Design
This Masterbuilt electric smoker grill is well-constructed and will last you for many years to come. The unit features 730 square inches of cooking space filled with chrome-plated cooking racks that are made to stand the test of time. There is a front window that allows the user to see what is going on inside the smoker. Being able to see your food while it is smoking is very useful since you don't have to open the door. This means that you will save both time and efficiency because you won't be losing any heat by opening the door to check on things.
Ease of Use
The convenient design of the grill makes it very simple to use it. For example, the user can insert the wood chips from the outside. In addition, this unit is one of those set-and-forget grills. All you have to do is set the desired temperature and let the smoker grill do all the rest for you. There is also a probe included that allows you to monitor the meat temperature.
High Temperatures
Speaking of temperature, one of the most common problems of mid-priced smokers is that they can't reach a high temperature. Well, you won't have to worry about this with the Masterbuilt 30-inch electric smoker. The unit can reach 300 degrees and it also benefits from the window in the front. So, no matter what you're planning to cook, this grill is more than likely to be able to handle it.
Wireless Controller
This feature is probably one that users like the most. Thanks to the wireless controller, you can adjust the food temperature by using the probe and control the overall temperature without having to stand next to your smoker.
PROs:
Large cooking space.
Quality construction and convenient design.
The grill features external controls.
A handheld remote control and built-in thermometer are included.
The unit features a viewing window and an insight light.
CONs:
The viewing window might be a bit difficult to clean.
Some users stated that the door seals to leak.
Other Masterbuilt Electric Smokers
Masterbuilt MES 35B Electric Smoker
If you're looking for a smoker that will cook your food to perfection every single time, then you'll love the Masterbuilt MES 35B electric smoker grill. This unit is reliable, sturdy, and easy to use. It features a simple and straightforward design. The matt black coating, side handlebars, and cool touch door handle will fit in perfectly wherever you place this smoker. The cooking capacity of this unit is 548 square inches which are enough to feed a pretty big gathering.
The only downside is that the smoker isn't digital, which means that you'll have to keep loading the wood chips and keep an eye on the time. So, instead of digital, you'll be getting analog electric control with different temperature settings. Analog temperature control smokers are the easiest to use. In addition, the three cooking racks will also allow easy cleaning and food stacking. The smoker also has a thermostat control temperature gauge that tells you the exact internal temperature of the unit.
PROs:
Large cooking capacity (548 square inches).
Analog control makes using the smoker easier.
Side fitted handles which make it easier to move the smoker around.
Excellent insulation keeps the smoke and temperature locked in.
CONs:
There are no wheels on this unit.
The smoker is quite heavy when compared to other electric smokers.
Masterbuilt 20071117 30″ Digital Electric Smoker
This Masterbuilt electric smoker grill is one of those "plug-n-play" models. It's easy to start, it gets up to temperature in no time, and you can still use wood chips but you won't have to mess around with charcoal. The body of the smoker is fully insulated, meaning that the heat loss is minimalized. The grill comes with a built-in thermostat which allows you to know what temperature the smoker is running at all the time. The smoker has a large cooking capacity. According to Masterbuilt, you can fit 2 turkeys, 4 pork butts, 4 racks of ribs, or 6 chickens.
The door will lock tightly thanks to the door latch mechanism, meaning that there is no chance any heat or smoke will escape by accident. In addition, the chip loading pan is located at the side of the smoker, so you won't have to open the door to load the chips.
Besides the ease of use, cleaning and maintaining this unit is quite simple as well. You can easily take out the removable racks and scrub them down. However, make sure to avoid using any chemicals. And, before using the smoker it is recommended to run it at 275°F for 3 hours, and add ½ cup of chips during the last 45 minutes.
PROs:
The smoker is easy to use, making it a great choice for beginners.
Large cooking capacity.
The digital control panel makes controlling the temperature very simple.
Side wood chip loader allows for stable temperatures.
CONs:
The unit sits low to the ground and doesn't include wheels.
The smoker doesn't come with a meat probe.
The grill cover needs to be purchased separately.
Other Masterbuilt Propane Gas Smokers
Masterbuilt MPS 20B Patio-2-Portable Propane Smoker
If you're fond of tailgating or camping, then you definitely should consider this Masterbuilt smoker grill. It is a small but powerful unit that can travel with you everywhere – you can take it camping or to your neighbor's backyard. The grill comes with two chrome-coated racks and has enough space to fit 1 turkey, 2 pork butts, 2 racks of ribs, or 4 chickens. One great thing about this smoker is that, when you're done cooking, just remove the wood tray for simple ash disposal, fold up the legs, and you're ready to take the smoker grill home.
Even though this smoker is smaller and more portable than its larger cousins, it is still very powerful thanks to the 5,000 BTU burner. It also features push-ignition, a regulator knob to adjust the flame, a built-in thermometer, and an air damper to adjust the temperature and the amount of smoke. To make transporting the smoker even easier, you can buy a carrying case separately.
PROs:
Push-button ignition starts the smoker quickly.
Two chrome-coated cooking racks are included.
Decent cooking space for a small and portable smoker.
Regulator knob and air damper give the user more control overcooking.
CONs:
The smoker is more suitable for experienced users rather than beginners.
The carrying case has to be bought separately.
Masterbuilt MPS 340G ThermoTemp XL Propane Smoker
Do you like to be completely in control of your smoker? Then, you'll be in your element with the Masterbuilt MPS 340G propane smoker. This unit features the patent-pending ThermoTemp technology which controls the burner. So, all you have to do is set the grill and let it do all the work while taking all the credit. You will never end up with undercooked or overcook food thanks to the heat diffuser that distributes the heat evenly.
When it comes to the size of this smoker, 700 square inches will be enough for you to prepare 2 turkeys, 4 pork butts, 4 racks of ribs, or 12 chickens in no time. All this food can be distributed on four chrome-coated racks. The wood chip tray is built into a second door, allowing the user to experiment with different flavors without having to worry about heat loss.
Masterbuilt made sure to cover absolutely everything with this grill. For example, the safety valve will shut off the gas if the burner flame goes out. The gas management is made safe and easy thanks to a fuel level gauge and a type 1 regulator. And, most importantly, you will never run out of gas unexpectedly.
PROs:
The grill features a self-regulating temperature control so the user doesn't need to adjust the gas to maintain the temperature.
Heat distribution is even thanks to the heat diffuser.
Fuel level gauge allows the user to see the amount of fuel left.
There is propane cut off safety valve which will turn off the gas if the flame goes out.
Thanks to the two-door design the user can add wood chips without disrupting the heat and smoke.
CONs:
Some users complained that the flame goes out easily.
Assembling the unit might be difficult according to a few users.
Masterbuilt MPS 330G ThermoTemp Propane Smoker
If you're looking for a slightly more affordable and also a bit older version of the Masterbuilt ThermoTepmp smoker grill, then the 330G is the right choice for you. This smoker makes propane smoking simple and safe thanks to the patent-pending innovation. All you'll have to do to get perfectly cooked food every time is set the temperature precisely and walk away. And, that's it! No additional monitoring or temperature adjusting is necessary. And, four chrome-coated smoking racks are enough for you to prepare food for a large group of people. With this smoker grill, you can prepare up to 2 turkeys, 4 racks of ribs, 4 pork butts, or 12 chickens.
The greatest benefit of ThermoTemp smokers is that they go way beyond the traditional ability to control the temperature. Thanks to the fuel level gauge, you'll be able to easily monitor how much fuel is left in the tank. And, in case the flame blows out, the auto shut-off feature will stop the burner. All this combined with push-button ignition, wheels, and a handle will give you everything you need to master the art of propane smoking.
Whether you're looking for an electric or propane gas smoker grill, Masterbuilt has got you covered. The company manufactures different types of smokers that will definitely suit everyone's needs. All of the grills share certain features such as the push-ignition start or chrome-coated cooking racks. They vary in size, cooking space, portability, and some of their smokers feature the patent-pending ThermoTemp technology. Also, you won't have to worry about the price of any of these smokers because Masterbuilt makes sure that none of their products break the bank. So, all you have to do is choose which smoker grill you like the most and decide whether it suits all your needs.
Wrapping it up
Still not sure whether or not a Masterbuilt smoker is right for you? Check out our buying guides for the best smokers across different categories and see if there's something else that's best for your budget and situation.