If you're reading this article, then it's quite likely that you've done some research about pellet grills and you're ready to invest in one. Also, you're probably hoping to find the one that is perfect for your backyard and that has a reasonable price. If that's the case, then Traeger pellet grills are an excellent choice for you.
Joe Traeger came up with this type of grill in 1986. Ever since then, Traeger has been the top-selling pellet grill. Their products are not only known for their high-quality and durability, but also for that signature smoky flavor you can achieve only when using wood pellets. Whether you plan to sear, bake, barbecue, smoke, or roast your food, Traeger has special wood pellets that will bring out the best taste there is.
But, choosing a Traeger grill can be a bit difficult with so many different models and versions available. Long story short, the manufacturer produces four main lines of grills – Traeger Pro, Traeger Ironwood, Traeger Timberline, and Traeger Tailgater. In addition, there are also a handful of other popular models such as the Junior Elite, Renegade Elite, and Bronson.
We've decided to come up with a detailed guide and review the best Traeger pellet grills available on the market, explain the differences between the models, and see how they stack up against their competition. We also compared newer models to the older ones so you can easily decide whether you need all the latest bells and whistles or if the slightly outdated version will do the trick for you.
If you already own one of these smokers and are looking for ways to get more for your money, check out our article on Traeger Smoker replacement parts & accessories.
Top 3 Traeger Pellet Grills Review
Traeger Grills Pro Series 34 Pellet Grill and Smoker
For all those who dream of having a versatile pellet grill that is perfect for low-and-slow cooking, Traeger Pro Series 34 will make all your dreams come true. It is needless to say that the grill is made out of high-quality materials and that it was built to last. In addition, it can maintain cooking temperatures very well and help you serve mouth-watering food every time. The only disadvantage of this grill would be its maximum temperature (450 °F).
The grill comes on a pallet and it also includes detailed instructions so you can assemble it on your own easily. The fact that you will be assembling a well-made product makes the entire experience interesting and enjoyable. The fit and finish are excellent and all the parts slip into place easily. Once you assemble the grill, you will be able to marvel at the build quality. Traeger Pro Series 34 feels robust and solid and it will last you for many years to come.
The greatest thing about this Traeger grill is the overall cooking experience. The grill creates a uniform heat around the food, providing much more even cooking and less direct heat. This means that you will never burn or overcook your food when using this grill. However, keep in mind that the cooking is slightly bit different; it resembles more cooking in an oven rather than a grill due to the indirect heat.
Low-and-slow cooking is the part where this Traeger pellet grill excels. If you're a fan of cooking meat at low temperatures, this grill will crush it. All you have to do is put it on a low temperature, drop in your meat, and enjoy the rest of your day. The grill will do all the work as long as it's loaded with pellets. In addition, Traeger Pro Series 34 can be used as a smoker and delivers awesome results. The food will be cooked perfectly and infused with a robust smoke flavor.
Features
Precise Temperature Control
What many users love about the Traeger Pro Series grills are the Digital Pro controller and the precise temperature control. This grill features an LED panel that is rendered in light blue and placed on the hopper for easier access. Setting and maintaining the temperature is incredibly simple. The grill features an RTD (resistance temperature detector) probe which enables the grill to maintain your desired temperature within 15°F.
The probe is very advanced and it captures about 60 temperature readings per minute so that it could ensure proper temperature control. As a result, you can use this grill to cook food at any temperature between 180°F and 450°F without having to worry about your food being under- or overcooked.
Generous Cooking Space
With this Traeger Pro pellet grill, you also get 884 square inches of cooking space which is more than generous definitely. With this amount of space, you'll be able to make a full meal and grill any hunk of meat, regardless of its size. This means that you won't have to worry about the number of guests you can invite to your place anymore because Traeger can tackle it all.
With this grill, you won't have to wait for the steaks to finish before you throw on a few sausages or grill a lobster. In addition, you will also get a second rack which is great for indirect heat cooking since it is supposed to be placed above the firepot.
Cost-Efficient Pellet Grill
Another great thing about the Traeger Pro 34 pellet grill is its efficiency. And, not only is the grill cost-efficient but it is also eco-friendly because it burns the pellets very slowly. This will help you save some money over time because your grill won't be burning through pellets unnecessarily, regardless of whether you grill your food at high temperatures or smoke your meat at low heat.
When it comes to high heat, you will need about two pounds of pellets per hour. At medium heat, the grill will burn one pound of pellets per hour and at low heat, you will need less than half a pound of pellets per hour. When it comes to slow-smoking, you can leave the grill overnight and you won't need to get up and fill the hopper.
Ease of Use
Sometimes, even the greatest grill masters prefer to stay away from bulky grills because they can be a pain to move. After all, portability is one important feature of all grills. Luckily, you won't have to worry about portability with the Pro 34. Despite its size and large cooking space, moving the grill from one spot to another isn't difficult.
The design of the grill adds to its stability and ensures even weight distribution. In addition, it features thick legs which add to the grill's maneuverability. The wheels are large and they are all-terrain, meaning that you can move the grill over your patio and through the backyard effortlessly and also silently.
PROs:
Excellent value for the price.
The grill has a large grilling space (884 square inches).
It features dual probe meat thermometers.
The large 18-pound hopper is easy to cleanout.
The grill allows precise temperature control.
The grease management system is very convenient.
CONs:
The temperature can fluctuate between +/- 15°F of the setting.
The maximum temperature is 450°F.
Traeger Grills Texas Elite 34 Wood Pellet Grill & Smoker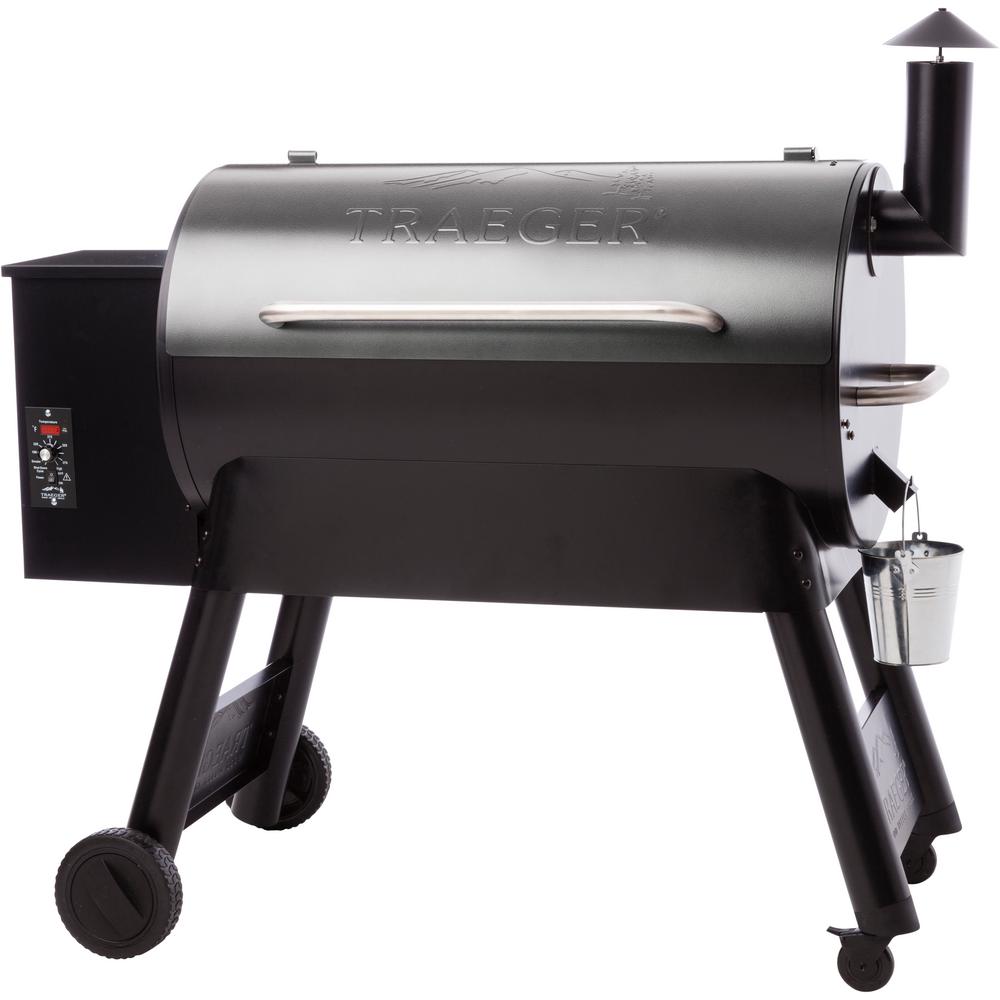 The grill you're looking at here is a mean machine. The Traeger Texas Elite 34 pellet grill features the auto-start ignition and it reaches high temperatures very fast. This is great for all those who are impatient and want their pellets to start smoking within minutes. This grill features one of the biggest grilling areas available on the market. With the Texas Elite 34, you'll be getting over 600 inches of cooking space. In addition, the grill features a wheeled base that can be easily removed in case you need to use it on your table.
Talking of cooking space, it is divided into two racks that allow you to cook your food right in the heat but also to keep it warm without burning it. This also means that you, your friends, and your family won't have to wait because you'll be able to get that delicious steak ready in no time. Speaking of friends and family, the Traeger Texas Elite is also an excellent choice for those who love to serve food for large groups of people.
But, don't let all these remarkable features scare you. Even if you are new to the world of grilling, this pellet grill is an excellent choice for you. It is easy to use it thanks to the automatic startup feature. And, since there is no need for charcoal or propane, you'd be buying a very convenient no-brainer grill. And, even if you use it only once or twice a year, you still won't forget how to use it. The best part about owning this grill is that you won't need to monitor it constantly when cooking. Start the grill, add the meat, and walk away and enjoy your beer while the grill does its job. Once it's done, you'll be able to enjoy the smoky goodness. In addition, cleaning the Traeger Texas Elite is so simple and it takes only a few minutes.
Features
Packed With Cooking Features
If you're already going to invest in a pellet grill, then you better make sure to invest in a versatile one. This Traeger grill is packed with six cooking features. So, you won't only get to barbecue but also to smoke, grill, braise, roast, or bake your food. This also means that you won't be limited to hot dogs, steaks, and burgers; you can also use it to whip up some mac-n-cheese or even lava cake if you're feeling extra.
Includes a Digital Controller
What many people find repulsing when it comes to grilling and barbecuing is being forced to stand next to the grill for hours. With the Texas Elite 34, this won't be a problem. The grill includes the well-known Digital Elite Controller which allows it to do all the cooking and grilling while you take on another task or even relax. This feature is very neat when you organize larger gatherings since it will do all the cooking and allow you to spend some time with your guests.
Automatic Startup and Shut Down
Running a grill has never been so easy. When it comes to the Texas Elite Pro 34 pellet grill, all you have to do to start the grill is press a button. This makes the grill extremely convenient and generally safer and easier to use.
Turning off the grill is just as easy. Once you remove your food, the grill will initiate the safety shut down cycle which is meant to burn all the leftover pellets before turning the grill off completely. This will ensure a consistent startup next time you use the grill.
Large Hopper Capacity
Not only does this grill feature large cooking space but also a large hopper capacity. You can pack in enough pellets to run your grill continuously for about 12 hours. This feature is incredibly handy, especially for the low-n-slow grillers.
PROs:
Affordable grill packed with plenty of features.
It can be used both by beginners and pitmasters.
The installation process is hassle-free.
The grill is easy to use thanks to the automatic startup and shutdown.
Large hopper capacity.
The grill is also energy-efficient.
CONs:
Some parts are made in China and maybe on the cheaper side.
Some customers complained about temperature reading defects.
Sometimes the grill is unable to reach the maximum temperature.
Traeger Timberline 850 Pellet Grill
Traeger Timberline 850 is a pricey pellet grill but it will bring you one step closer to turning your home into a smart home. The grill comes with a neat feature called the WiFIRE technology that allows your grill to connect to a Wi-Fi network. This means that you can use Wi-Fi to control your grill from the comfort of your chair. The only thing you'll have to do is load the food and take it out once it's done.
Imagine not having to run to your grill at every commercial break… sounds amazing, doesn't it? With the Timberline 850, you can use the Traeger app on your tablet or smartphone to control the grill and the food you're cooking. The app provides the temperature of the inside of the grill as well as the internal temperature of the food. However, keep in mind that the grill comes only with one probe, so you'll need to decide what to monitor if you plan on cooking more than one thing at a time.
Speaking of cooking several things at once, with this pellet grill this task is incredibly simple. The grill features 850 square inches of cooking space. And, according to Traeger, this is enough space to cook nine chickens, eight rib racks, or six pork butts at once.
In addition, the grill comes with an LCD display that shows all the important information, such as the probe and grill temperatures. When it comes to the temperature, you can use either the dial on the grill or the app to set the cooking temperature.
Features
Impressive Build Quality
Traeger says that they built the Timberline 850 "with the structural integrity of Fort Knox." Even though this sounds just like marketing speech, the manufacturer remains true to their word. The grill weighs about 200 pounds and it is quite easy to assemble it thanks to clear instructions and numbered pieces. And, as soon as you set it up, you'll be impressed how solid the thing is.
Plenty of Cooking Space
This grill is heavy and solid but also physically large. It measures 52-inches wide, 48-inches high, and 27-inches deep. Most of this space is taken up by a pill-shaped barrel, which has double-wall construction and a gasket that completely seals the interior when the lid is closed. And, on the inside, you will find 850 square inches of cooking space that is divided across three grates. This is more than enough to feed a large party since this amount of space allows you to cook about nine chickens or eight rib racks at the same time.
Traeger WiFIRE
The most exciting feature of this pellet grill is its ability to connect to the Wi-Fi. This feature is quite useful, especially when you plan to slow-cook or smoke your food. The Traeger app allows you to control your grill remotely.
Usually, when you smoke meat, you have to get up every 20 minutes to babysit the grill and adjust the temperature. But, with the Traeger WiFIRE, all you have to do is use the app to set the desired temperature and then go on with your day. You can control the cooking temperature remotely and also set alerts if the meat or grill reaches a specific temperature. The app is so convenient that it even comes with the "super smoke" button. Once you press it, you can play with your kids, walk your dogs, and even go shopping without having to think about your grill at all.
TRU Convection Heating System
One of the greatest advantages of this Traeger pellet grill is the TRU convection heating system. Once you close the lid, the barrel is sealed and it will keep the heat distributed evenly. You can use the inbuilt thermometer to check on the cooking temperature and the plug-in meat thermometer to control the temperature of your food. The grill may sometimes spike by five or ten degrees, but it will quickly regulate the temperature to meet the target.
PROs
850 square inches of cooking space.
The grill maintains precise cooking temperatures and automatically adds fuel.
Robust construction.
Includes the WiFIRE feature and a well-made app.
The grill can be controlled and monitored remotely.
CONs:
The grill is a bit pricey.
The app doesn't warn the user when the cooking temperature drops from the target.
The app doesn't stop cooking when the food reaches the target temperature.
Small Traeger Smokers
Traeger Grills Pro Series 22 Pellet Grill and Smoker
Even though it may be smaller than the previously mentioned Traeger pellet grills, the Pro Series 22 can perform as well as they all do. It features a sturdy build, all-terrain wheels, and a sawhorse base. This means that you can move this grill anywhere and without much effort. The grill also includes a pellet hopper cleaner that allows you to easily change the pellets.
The Pro Series 22 comes with an accurate digital controller that will keep the temperature within +/-15°F of the set temperature. This feature is quite important, especially if you plan to smoke meats such as brisket. The controller also comes with a shutdown option that will ensure the auger is emptied while the grill is cooling down. In addition, the grill features an easy-to-read LCD screen that displays the internal temperature and a knob with 11 adjustments that allow you to precisely control the grill temperature.
When it comes to some other features, the Pro Series is also equipped with an additional grill rack that will give you about 30% more space. The food on both the upper and lower rack will cook the same since Traeger grills do not use direct flame. There is also a plug for a meat probe so you can monitor the temperature of your food while it is cooking.
PROs:
The grill is sturdy but can be moved easily across all terrains.
Excellent value for the price.
Advanced grilling technology and precise digital controller.
Easy pellet hopper clean-out.
CONs:
Some users complained that their grill can't maintain a steady temperature.
Traeger Grills Renegade Pro Pellet Grill
The first thing you notice about Traeger Renegade Pro is its rounded shape and sturdy design. The grill features a large 22" barrel and 380 square inches of cooking space. It is large enough (to cook everything on it, ranging from hot dogs to ribs. The grill is supported by two sturdy legs and a set of all-terrain wheels that make it incredibly simple to move the grill around.
Using the grill is incredibly simple. For it to start, you just need to push a button. The Renegade Pro features an electronic auto-start ignition so you never encounter any problems when firing up the grill.
Other features that make the grill very convenient are the dual meat probes, the digital pro controller, and Traeger's patent advanced grilling logic. In addition, cleaning and maintaining the grill is incredibly easy. The hopper itself is very convenient and can be cleaned easily. And, the grease is discarded from the cooking area via a tube that runs into a cup on the side of the grill.
PROs:
Sturdy and well-built pellet grill.
380 square inches of cooking space.
Versatile cooking options.
Auto-start ignition that makes firing up the grill very easy.
Dual meat probes are included.
CONs
The size of the grill is not suitable for larger gatherings.
Traeger Renegade Elite Wood Pellet Grill
Similarly to Renegade Pro, the Renegade Elite is one of the junior grade Traeger grills and it features 380 square inches of cooking space. Similarly, to all the other Traeger pellet grills, this one was also designed to make your grilling experience as convenient as possible.
Controlling the temperature is very simple thanks to the LED digital controller that allows you to view and set the desired temperature so that your food is cooked perfectly every single time. The pellets are automatically fed into the grill, so you won't have to worry about maintaining a consistent temperature.
The grill also features an inbuilt caddy rack for storing all the tools and sauces you may need. In addition, there are also magnetic hooks included which you can use for the utensils. A prep rack is included as well and it makes grilling hassle-free. It will hold the plates and tools while you're grilling, so you can pay attention to your food and not grabbing the tools.
And, cleaning the Renegade Elite pellet grill is as easy as Renegade Pro. The EZ-drain system will drain all the grease from the cooking area and then store it in a bucket, allowing you to discard all the fat and grease easily. In addition, there is a door in the back of the hopper which makes changing the pellets a piece of cake. This feature comes in handy if you need to change the flavor of the food.
PROs:
Excellent and versatile grill for the money.
380 square inches of cooking space.
Easy maintenance and cleaning.
Includes a caddy rack and a prep rack.
CONs:
The grill is not suitable for large gatherings due to its size.
Traeger Junior Elite Wood Pellet Grill and Smoker
Traeger Junior Elite is a special pellet grill because it's more affordable than other pellet grills, more portable, and also performs better than a lot of other models. Besides its increased portability, this grill stands out from the competition for several other reasons as well.
First of all, the grill is multi-functional and you can use it to grill, bake, roast, braise and also smoke your food to perfection. In addition, it is an excellent choice for tailgating as well. The Junior Elite includes a built-in thermostat and a digital controller that gives you precise control over the temperature. However, the grill is prone to temperature fluctuations sometimes, mostly in cold weather.
The only downside of this grill would be its size. But, 300 square inches of cooking size is still decent enough for smaller gatherings. In addition, the size of the grill makes it easy to move the grill around. You know what they say, you win some, you lose some.
PROs:
The grill is made out of durable and high-quality materials.
Weighing only 62 pounds, it is perfect for tailgating.
This pellet grill is energy efficient.
The temperature is controlled digitally.
The hopper is automated.
CONs:
The hopper is quite small and may need to be refilled frequently.
Some users aren't satisfied with the size of the cooking space.
Out of Production Traeger Grills
Select Elite Pellet Grill
The Select Elite is one of Traeger's premium pellet grills. It is a traditional BBQ style grill that includes modern technology such as a digital controller, increased pellet hopper size, storage, and shelves. The grill features 589 square inches of cooking space which is large enough to cook for your friends and family. In addition, the grill is also energy efficient – it uses 300 watts for the first 4 minutes and just 50 watts afterward. And, let's keep in mind that saving energy also means saving money. You may find a used Select Elite pellet grill for sale, but you won't be able to get a brand new one since the grill is out of production. However, if you don't want to buy a used grill then the perfect replacement for this one would be the Traeger Pro Series 34
Traeger Eastwood 34 Pellet Grill
One of the most impressive things about the Traeger Eastwood 34, besides its flawless performance, is its size. The grill boasts 626 square inches which are enough to hold up to 9 racks of ribs or 24 burgers. A perfect choice for those who love feeding their friends and family.
Besides the size, what many users love about this grill is its digital elite controller. The controller allows you to set the desired temperature and then do whatever you like doing while the grill does all the work. Running this pellet grill is as simple as running an oven, so beginner pitmasters won't have to worry. In addition, the grill maintains consistent temperatures all the time so your food will always be perfectly cooked. Since this grill was discontinued as well, you might be searching for the most similar replacement. We would recommend the Traeger Pro Series 34
Traeger Texas Pro Pellet Grill
The Texas PRO is one of the largest Traeger pellet smokers. The grill is popular for its 646 square inches of primary cooking space and an upgraded digital controller. In addition, it also features a dual meat temperature probe which is quite useful for getting the perfect results every time.
The PRO Series grills have been introduced in 2014. They are very similar to the Select Lil'Tex and Texas pellet smokers when it comes to their performance. However, what makes these grills different is a greater choice of colors, integrated dual meat probes, a hopper cleanout door that makes changing the pellets very easy, and an additional upper grill shelf. Since Traeger is constantly trying to be at the top of its game, they discontinued this model and replaced it with a more advanced one. If you're looking for the best and latest Traeger pellet grill there is, then make sure to check out the Traeger Pro Series 34
Traeger Bronson 20 Pellet Grill
Traeger Bronson 20 may not be the best pellet grill available on the market, but its incredible price tag makes it hard to leave this grill out. The best way to describe this grill is as an entry-level pellet grill that is the perfect choice for those who have just taken up grilling and barbecuing as their hobby.
What you'll love about this grill is the ease of use. There are only a few things you have to do to get perfectly grilled food every time. First of all, plug the grill in, add wood pellets, and press the power button. Then make sure to set the desired temperature and wait for a few minutes until the grill heats up. Once this is over, throw in your food and wait for it to cook. Since the grill uses indirect heat, you won't have to check on the food every few minutes. Just make sure you don't run out of pellets mid-cooking. You may find it hard to purchase this Traeger model since it was discontinued. However, you can replace it with Traeger Renegade Elite
Traeger Lil Tex Elite Wood Pellet Grill and Smoker
The Traeger Lil' Tex pellet grill is one of the manufacturer's smallest models. The cooking surface is 418 square inches large which is big enough to hold 24 hot dogs, 16 hamburgers, four chickens, or five racks of ribs. Now that you think about it, this isn't that small, right?
This pellet grill has all the features that make the griller's life easier. Basically, it will do all the work for you. Since this is a pellet grill, starting it is as simple as a push of a button. The Digital Elite Controller will maintain the desired temperature; you can keep the temperature low for smoking or hot for searing. Last but not least, a controlled feeding mechanism takes care of moving the pellets into the auger so you won't have to bother with controlling the fuel. If you have some trouble with finding this model on the market, then you may consider buying the Traeger Renegade Elite instead
Traeger Grilling Accessories
Whether you decide to use your Traeger pellet grill for baking, smoking, roasting, or grilling, it is very likely that you'll need some accessories to help you out. In order to get that perfectly cooked and smoked taste, you'll need to pay attention to all the details.
Grilling accessories can enhance your cooking experience, whether you need crafty cooking tools or simple protection for your grill. The greatest thing about Traeger accessories is that they are durable and also fit perfectly with almost all Traeger grills.
Smoker Grill Cover
Even though Traeger pellet grills are made of quality materials, they still need some protection from the elements Mother Nature decides to throw their way. These covers provide excellent protection from sleet, rain, and even dark of the night. All Traeger grill covers are full-length, meaning that no part of your grill will be left exposed.
Thermal Blanket
Besides the classic cover, you can also get a thermal blanket for your grill. This type of blanket is used to retain the temperature of the grill and protect your food from being affected by outside factors. So, your grilling and smoking won't be limited to the warm months. With the insulation blanket, you can use your Traeger pellet grill even during freezing temperatures.
The thermal blanket can help you save both time and money. The cooking process won't be delayed due to colder temperatures and you won't need to use extra fuel to maintain the temperature since it won't be affected by the cold.
Folding Shelf
Preparing a barbecue is always nice and exciting. But, it can turn into a frustrating experience if you don't have enough space to prepare your food or set aside your tools such as bowls, knives, spices, and water. Luckily, Traeger has got you covered!
Since most grills don't include a preparation area, Traeger came up with a folding front shelf that will make your pellet grill even more functional. Keep in mind that this shelf works only with the Traeger 20 series grills. Since it was made for these specific models, the shelf has pre-designed holes that align with your grill perfectly.
Conclusion
Pellet grills are an excellent addition to every backyard. They are incredibly easy to use and they will cook your food perfectly every time. When choosing the perfect pellet grill for your needs, there are several things you should keep in mind.
First of all, consider your budget. There are so many different Traeger models available and your budget might affect your purchase. However, don't worry if you have to go for some of the less expensive models. They perform as well as the pricy ones. Perhaps the only difference is the size and the release date. Talking of size, there is no need for you to go for models with enormous cooking space if you plan to use your pellet grill for smaller gatherings with your friends and family. In addition, if you like tailgating or having picnics, then the smaller models are the ideal choice for you due to their portability.
With so many different Traeger pellet grills available, it is more than likely that you will find the perfect one for your needs. And, it is also more than likely that you will be satisfied with your purchase for many years to come.